Meet Sherrie
Sherrie Dunlevy is a #1 Best Selling Author, Motivational Speaker, and Podcast Host, Grief Specialist, and Inspirationista.
Sherrie has been a trusted source for information in her community for over 30-years. Sherrie (McCutcheon) Dunlevy was the face of her local news for most of the 80's and 90's. Following her television career, she was the emcee and host of several local radio shows.
Following the death of her son, Sherrie has made it her mission to help other grievers, creating the Graduating Grief Academy and hosting the Graduating Grief Podcast. Her book "How Can I Help" was a #1 Best Seller and Sherrie is a featured speaker for many health, wellness, and self-help conferences.
Sherrie McCutcheon – Television On-Air Personality
In her hometown of Wheeling, West Virginia, Sherrie is best known for her time on television and radio. Sherrie was the popular host of Jamboree in the Hills, The BROADcast on WKKX, and anchored the Nightly News on the Steubenville-Wheeling NBC.
Kent State, PBS, and WTRF
Sherrie started her career on television like most college students – working for the local campus station. Sherrie would work for the PBS Channel WNEO 45/ WEAO 49 for the duration of her college career.
She would go on to Anchor the News on TV 2 at Kent University from 1982-1984.
In the summer, Sherrie would return to Wheeling, West Virginia and help in production at the local CBS station – WTRF-7. She would work with WTRF for three-years, gaining experience and understanding in-front and behind the camera.
Weather and WTOV-9
Sherrie was able to secure her first television job at the Steubenville, Ohio NBC station, WTOV-9. Her first on-air job for Channel 9 was delivering the weather, where Sherrie worked for a full year.
Sherrie McCutcheon was then promoted to be the main news anchor, alongside Red Donley (best known for being a Pittsburgh Steeler announcer). Sherrie would be the face of the Six and Eleven news until 1996. Sherrie would later anchor the Noon and Six until 2000.
Sherrie was able to interview prominent political figures from Senators Jay Rockefeller, Robert C Byrd, John Glenn, Sherrod Brown, Michael DeWine ,to Governors – Gaston Caperton, Bob Wise, George Voinovich, and Richard Celeste, celebrities Garth Brooks, Brad Paisley, Vince Gill, Toby Keith, Charlie Daniels, Ronnie Milsap, Marty Stuart, Tom T Hall, Charlie Pride, Tammy Wynette,Trisha Yearwood ,Barbara Mandrell, the Oak Ridge Boys, Brooks and Dunn, Marie Osmond, John Schneider, Suzanne Sommers, Rich Little, Lisa Rinna , Rob Parissi, John Larroquette, and "Weird Al" Yankovic, and public personalities Mel Blount, Rocky Bleier, Mary Lou Retton, Jake LaMotta,  Michael Lossier, Lorna Byrne, during her tenure on local news.
Watch Sherrie's Early Broadcast Work
While I have had the honor and privilege of interviewing some of the biggest movers and shakers in politics, and some of the biggest and best in the world of entertainment, the stories that stayed with me were the ones of every day people taking a stand or making a difference inside their communities.
Host and Emcee
Sherrie's years in news made her a great choice to host local events or be the on-air personality for brands and companies. Sherrie was able to lend her skills and expertise to help great causes and promote large events.
Children's Miracle Network Telethon – WVU Children's Hospital
Sherrie helped change lives and support great causes by hosting the Children's Miracle Network Telethon each year. From 1986 to early the 2000's, Sherrie would help raise money for the WVU Children's Hospital – a cause that is close to her heart.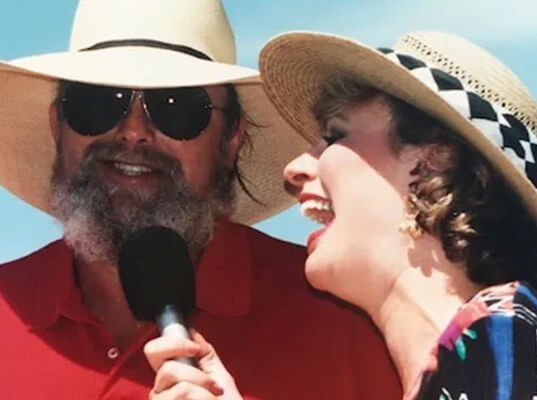 Jamboree in the Hills
Known for being one of the largest and most popular country music festivals in the country, Sherrie was a yearly host for this celebration. Broadcast on Wheeling-Steubenville's WTOV 9, Sherrie was asked to interview the top country stars performing on the show and interact live with the audience.
Sherrie would be linked to hosting this event for local residents and country fans until the festival finally dismantled in the late 2010s.
The energy that flows between the audience and speaker is electric! You just can't get that from behind the television screen. Being able to see people, feel their excitement and interact with them is the secret sauce to any live presentation. Everyone is involved and can enjoy the good vibes.
Radio and Podcasting
Sherrie was comfortable behind the desk talking into a microphone, even when the cameras weren't on. Her professional tone and broadcast experience allowed her to easily pivot into radio and audio.
Jamboree USA and WKKX
Sherrie began her radio career in 1990 as the emcee for Jamboree USA (the nations 2nd longest running live radio show at the time). In 2005, Sherrie started her own radio show on WKKX (Wheeling, WV), where she would discuss current events from a woman's point of view. Her goal was in educate, inform and entertain her audience She would stay on as a host until December 2016.
Podcasting
Years after leaving her radio show, Sherrie would get back into audio recording with her own podcast: Graduating Grief with Sherrie Dunlevy. Sherrie interviews and talks with industry experts, grief counselors, and mental health specialists – while also sharing her first-hand knowledge and experience.
Listen to Sherrie's Radio Interviews
Non-Profits, Small Business, and Networks
Sherrie is an entrepreneur – but most importantly someone who gives back. Over the years, Sherrie has volunteered her broadcast journalism skills to help non-profits and small businesses get the attention they need to thrive and survive.
YWCA Women's Boutique
Sherrie helped found and was the first director of the YWCA Women's Boutique in Wheeling, West Virginia. The YWCA is a community organization with a mission to eliminate racism, empower woman, help families, and strengthen communities The Women's Boutique provided professional work clothing for underserved women to enter the workforce as well as provided clothing to women fleeing their homes due to domestic violence.
Wheeling Symphony
Wheeling is the smallest city in the United States to boast a symphony of its size and caliber. Sherrie worked for the symphony for more than three years. As the Education Coordinator it was her job to organize the fall tour which provided schools in the poorest regions with of the state of West Virginia with educational workbooks followed by live performances by the Wheeling Symphony.
Small Business – Bead Retreat and Neora
Sherrie loves to work with small business owners and understands the day-to-day struggles of working and promoting your business. Sherrie had a home-based-business called Bead Retreat, teaching jewelry making classes in homes, and also markets skincare, haircare, wellness, and weight management products by Neora.
Sherrie strategizes, plans, and markets her business through social channels, community, networking, and online marketing. She has been able to work with other start-ups and small business looking to promote their business through similar channels.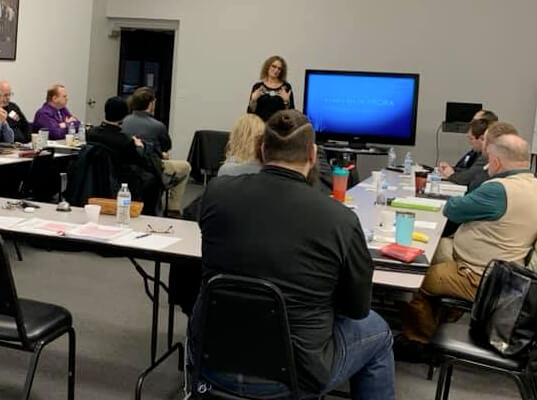 Chamber of Commerce and BNI (Business Networking International)
Sherrie Dunlevy is an active member of her community. Sherrie is a member of the St. Clairsville Area Chamber of Commerce, often participating at local Coffee and Connections (membership events), while also volunteering for community efforts like parades and after hour events.
Sherrie has been a member of the global organization BNI for nearly ten years, serving as Director Consultant for chapters throughout West Virginia. She has mentored many of the new members, while also meeting weekly with local business owners and brands in the Ohio Valley (Wheeling-Steubenville Market).
The communities that thrive are those that support their small businesses. It is so important to do what you can to support one another, especially in a smaller community. We can all win, when we work together.
Author
Sherrie Dunlevy released her #1 Best Selling Book "How Can I Help" in 2016, documenting the loss of her son and providing resources how others can help those grieving.
"How Can I Help" by Sherrie Dunlevy
Sherrie reinvented herself at the age of 50, transforming from the "Face on TV" to the voice that can help. Her book explains her new mission and her vision on how she can help everyone deal with difficult times.
"How Can I Help – Your Go-to Guide for Helping Loved Ones through Life's Difficulties", was written to help others reach out to friends when they are going through tragedies and difficulties in life.
Blog and Featured Articles
Sherrie has been asked by many major publications to be the voice of grief and lend credible expertise to the topic. Sherrie has been interviewed for local television stations across the country, guests on national podcasts, and her written work has been featured on prominent websites like THRIVE Global, Medium , Reader Digest, ReWire, IvyExec, Authority magazine, UpJourney, Fupping, The Mighty, My Grief Connection, Silver Sneakers, Human Window, Buzzfeed.
Sherrie continues to share her knowledge and expertise on her websites GraduatingGrief.com and SherrieDunlevy.com – as well as short-form content in social media communities and groups.
Sherrie Dunlevy Featured in the Press
Motivational Speaker
Sherrie coined the term "Inspirationista" as the perfect moniker for what she does. Sherrie works to inspire others to live with purpose and passion so they can make a positive impact with their lives. Sherrie has been hired by educators, non-profits, hospitals, and(business professionals to inspire teams and leaders through her public speaking.
Workshops, Talks, and Keynotes
Sherrie has developed countless talks and workshops to help inspire and motivate small groups and parties. Stemming from her real life, Sherrie is able to engage her audience and create active participation.
Sherrie has developed workshops covering Fear, Losing a Loved One, Supporting Grieving Friends/Family/Workers, Accomplishing Goals, and Transformation.
Corporate Training & Presentations
Sherrie has worked for large organizations and founded several small businesses. Her ability to understand what management and leadership want and what employees need makes her a logical choice for group training and presentations.
Sherrie has created training programs to help employers in Healthcare, Education, Non-Profits, Professional Services, and Mortuary better handle the common struggles and tasks of handling difficult situations (like grief) and continuing to promote health lifestyles and work balance.
Sherrie has presented for National Funeral Directors Assoc., WELD National, Center for Organ Recovery, The Mighty, Ohio Funeral Directors Assoc., Trinity Health Systems, WVU Medicine, Jefferson County Educational Service Center, West Liberty University, Wheeling University, Franciscan University, Pittsburgh Professional Women, Ohio Assoc. of Senior Centers, WV Activity Professionals Assoc., WV Caregivers Assoc. YWCA, The Tapestry Network, Belmont Savings Bank, Wilson Funeral Homes, Pittsburgh Business Times, Community Foundation of Upper Ohio Valley, Ohio County Schools, Toronto City Schools, Switzerland of Ohio Schools, Noble County Schools, MOV Chamber of Commerce, Wheeling Chamber of Commerce, St. Clairsville Chamber of Commerce, WVU Medicine Children's.
There is nothing more rewarding than connecting with people in person and in real time. To be able to make a positive impact, by pouring hope, healing and possibility into the minds and souls people who have been struggling silently is the greatest gift one can give.
If you are looking to Hire Sherrie as a Featured Speaker or Guest, Reach Out Today.