This is the time of year where parents are finishing up all that back to school shopping for their kids and counting down the days until they return back to the classroom.
But many administrators, principals, and educators have been very busy making sure everything is in place and ready to go in order to welcome everyone, including the students, back to school for a new year.
While these professionals have been hard at work for some time, there is still excitement in the air when it comes to kicking off each new school year.
Schools that are a part of the East Central Ohio Education Service Center, had the opportunity to join each other in Cambridge, Ohio for some great back to school kick off events.
Administrative Kick-Off
I had the opportunity to spend time with school administrators, principals and counselors at the Administrative Kick Off event August 2nd at the Pritchard Laughlin Center in Cambridge, Ohio.
ECOESC Executive Director of Educational Services, Lori Robson, welcomed more than 250 administrative professionals to the event and introduced speakers that could not only keep them up to date on the latest education initiatives but also help them to stretch and grow on a professional and personal level.
Dr. Scott Hunt delivered information and updates from the Ohio Department of Education, while Dr. Adolph Brown delivered a stirring presentation on helping students by "Walking the Talk".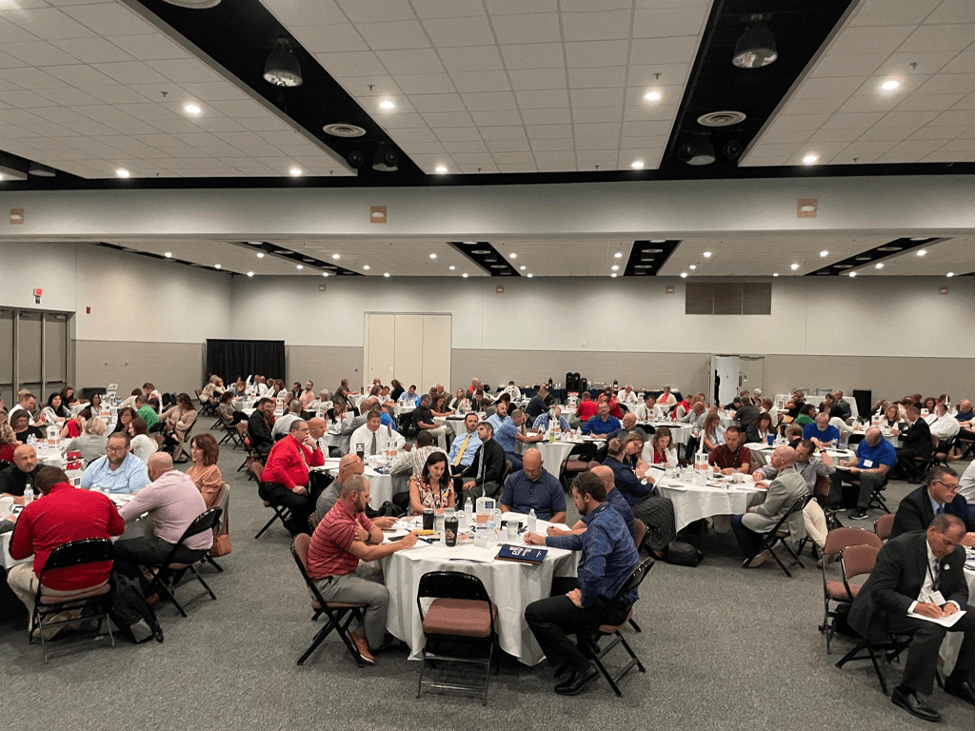 I was invited to deliver my EnVision Success presentation, which included setting intentions for what is important in our lives,( personally and professionally)  and learning how to set the vision for it.
What I truly loved about doing this presentation for this audience, was helping them to realize that while the work they do takes such care and commitment, and is truly important, it is also necessary to recognize their profession is only a part of who they are as people.
This workshop helped me guide these professionals to look at their life as a whole and encourage them to envision living a life that feels balanced and fulfilling personally and professionally.
It was exciting to watch everyone build their vision boards and truly moving when many shared that vision with others at the conference.
Educator Kick-Off
August 10th, I was back at the Pritchard Laughlin Center, this time for the very first Educator Kick off.
This inaugural event featured speakers in person and virtually, including Weston Kieshnick, who talked about educating for the future, Chase Mielke, who taught educators how to fall in love with teaching all over again, and Dan Fitzpatrick, who explained how to use AI in the classroom through his virtual presentation from the UK.
After lunch, I was introduced by Programming and Communications Coordinator Sarah Spies, to share my "My Compass Word" presentation.
During my time with these teachers, I was able to walk them through a few exercises to help them select a single word they can use as their "compass" to keep them on the path to reaching goals they set in the following four areas of their life: health and wellbeing, relationships, career and finance, and personal and spiritual growth.
The day wrapped up with many of the teachers sharing their word, and explaining how that word will serve them during the upcoming school year.
Educating our next generation is some of the most important work that is being done, and after spending time with so many professionals who invested their time to learn and grow, so they can share what they have learned with their staff and students, shows not only great dedication, but great promise for the future.