Finally after two years of waiting, I had the incredible opportunity to travel to the Greenbrier Resort in White Sulphur Spring, West Virginia and deliver a talk at the WV Hospital Auxiliary Conference.
You see, I had been scheduled to speak at this conference two years in a row prior to this year and Covid forced the cancellation of it both times. Let's just say the third time's the charm.
Part of what I love most about being an inspirational speaker is traveling to great places and meeting new people. And this time I had a traveling companion, my dear mother.
I must admit the Greenbrier is one of my favorite places to visit because of its rich history and because of the sheer elegance of it. Presidents, politicians and celebrities from all over the world have made the trip here and their pictures line the walls of many hallways inside the hotel. This is the second time I have been hired to speak at a conference in this incredible hotel and the very first time I have been here to see it decked out for the holidays.
So I thought I would share some of the highlights of the conference, as well as share some of the highlights of this incredible resort when it is decorated for Christmas.
Conference Highlights
I delivered one of my favorite keynote addresses: "Step out of your Stories, Step into your GREATNESS" It's about the stories we tell ourselves that either propel us toward our dreams, or the stories we makeup that keep us from achieving them.
Members of the hospital auxiliaries throughout the state of West Virginia do so much to add to the quality of life and care the hospitals are able to provide in their respective communities. So when you are speaking to a group of open hearted volunteers like these, it's a wonderful energy because you are in the presence of "givers".
But one of the messages I had for this very generous group is that sometimes as "givers" we have a challenge in receiving, or even honoring our own needs and desires.
I shared with the group some great techniques they can use to find out exactly what their heart needs and what their heart desires and how to stop the stories that instantly come to mind to stop us as soon as the heart and soul speaks.
I also shared part of my story, which included many struggles, challenges, failures, victories, and even surprises.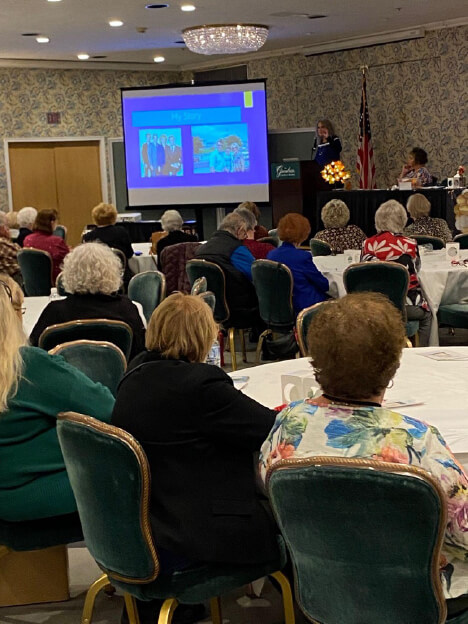 It was a great afternoon and let me tell you there is no better feeling for a speaker than to have people lined up after your presentation to share with you what struck them during your talk.
Some came to thank me.
Some came to say they never thought about something I mentioned" like that" before.
Others just wanted a picture or a hug.
And then there are those who opened their hearts
  and shared something so personal with me because they knew I would understand.. that I would "get it" because something I said earlier allowed them to speak about it too.
Aahh.. the courage it takes for those people! This is a transformation taking place before your eyes.
This is the magic that can happen.
This is why I love what I do!
Christmas at the Greenbrier
When you pull into the Greenbrier, the mere sight of it tells you, you have arrived at some place really special. A bellman is ready to greet you, take your luggage and guide you to registration.
After you get registered, you are immediately offered a complimentary glass of champagne.
Yes please!
And thank you!
Although I've been to the Greenbrier before, I've never seen it decorated for Christmas.
So here are just a few of the highlights.
In the registration area is a huge Christmas display that's made entirely of Chocolate! The Gingerbread house, the nutcracker, even the train and trees are all made from chocolate.This display is 100% edible.
Christmas trees and lighted garland are hung throughout the grand archways and are absolutely breathtaking. And lights, decorations, and garland are strung throughout the shops at the Greenbrier as well with Toy Soldiers standing guard that are taller than most people.
And everything on the Greenbriar property is lighted up for the holidays.In the winter they even have an ice rink located right outside the indoor pool area, although it was not open when I was there.
It's all so beautiful and festive!
The most festive site is what I am calling the grand peppermint tree located in the main entrance hall. It was absolutely gorgeous.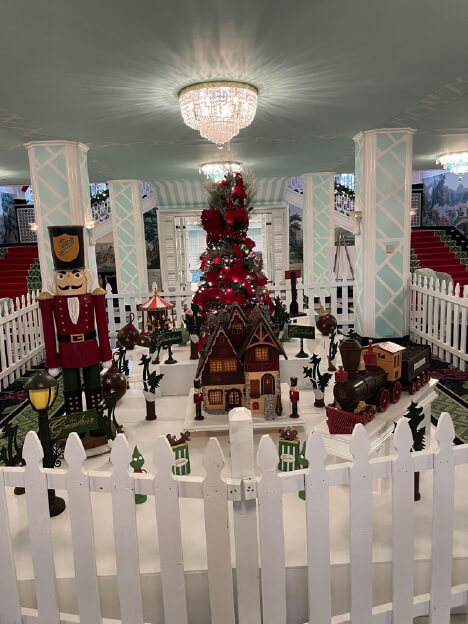 Last year, a Christmas movie was filmed at the resort called "Christmas at the Greenbrier". It will soon be featured this holiday season on the Fox Nation cable channel, but guests staying at the Greenbrier are treated to daily and nightly screenings. 
After a great dinner in The Forum Restaurant, I joined some of my new friends from the conference and my sweet mama, and we went to see the show.
Overall it was a wonderful trip filled with great energy, new friendships, great experiences and memories that will last forever.