As we find ourselves in the middle of a season filled with JOY to the world, and HAPPY holidays and MERRY Christmas, many of us are wondering if it is even possible to feel joy or be happy and merry.

This season may not be so bright.

For many of us entering into this season, we feel the darkness literally and figuratively.

We truly are in the darkest of days as far as the seasons go. The longest day of darkness is coming in just about a week or so.

The darkness may feel like it is closing in.

But there is always a glimmer of light.

That glimmer of light is hope.

Hope for healing our broken hearts.
That is just a portion of the message I shared with families who gathered as part of the Wilson Funeral Home Service of Remembrance.
This annual gathering offers family and friends an opportunity to remember and honor their loved one who died in this past year.
This is the second year I've been asked to deliver a message of hope and healing to people who've lost their loved ones.
Jason Wilson, the owner of Wilson Funeral Home says while people come to honor and remember their loved one as an individual, it's in the community service that people feel like they are not alone in their grief.
Brothers Jason and Jarrett Wilson have been carrying on this tradition in Bridgeport, Ohio since their late father Charlie Wilson started it 30 years ago.
Last year it expanded into Martins Ferry, and this year expanded once again into the Bethesda / Barnesville communities.
I attended the services at St. Paul's Lutheran Church in Bridgeport and at the First Christian Church in Martins Ferry.
The services and messages from Pastor Nancy Destefano and Reverend Rod Kasler, were heart felt, meaningful and healing.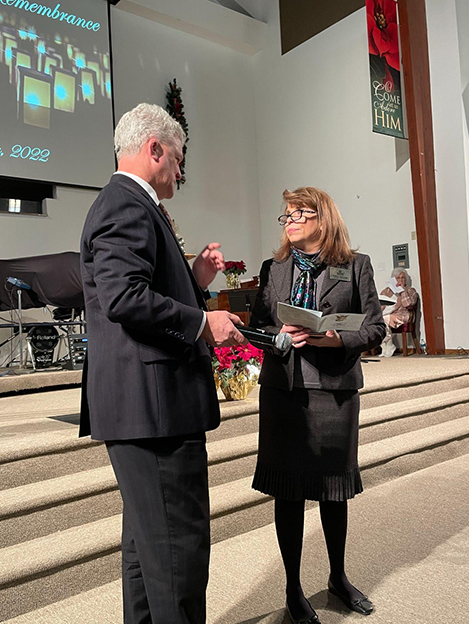 As I was speaking to families, I reminded them that it's ok to not feel so Merry and Jolly, but it's also ok to find joy in the festivities as well.
Grief makes the holidays extra stressful with the added emotions connected to our loss.
I talked about how to manage those emotions with an open mind, open heart, and an open line of communication.
And guided those attending through a short meditation that allows them to connect to the goodness and joy of their loved one this holiday season.
If you find yourself having a difficult time this holiday season, I want to share with you what I shared with those attending the service.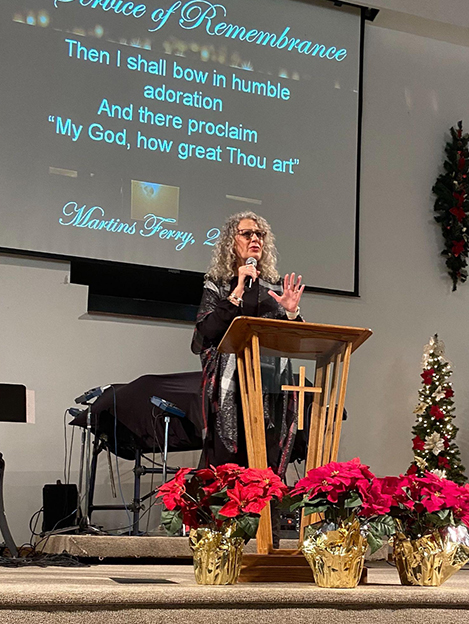 It's a special tip sheet on how to Navigate the Holidays as you grieve. It also includes tips on how to incorporate your loved one into holiday traditions moving forward and some great self care reminders. If you would like to get a copy, just click here: Navigating the Holidays Tips and It can be sent to you right away.
It's still hard for me to believe that just last year, I was not only speaking at this event, I was one of the grieving family members gathered to remember and honor the life of my dad who died earlier that year. So that makes this service of remembrance extra special to me.
As a grieving daughter it made me feel loved and cared about long after my dad's funeral. And in my book, that truly means something.