If you are a man reading this, I want you to think about three women in your life you love and care about.
If you are a woman reading this I want you to think of two women you love and care about.
As a man, one of these women will die from cardiovascular disease.
As a woman, one of the three of you will die from cardiovascular disease and it could be you.
Heart Disease is the Number One Killer of Women
That's more than ALL types of cancer COMBINED.
And yet, most women are not educated or aware of the risk factors, signs of heart disease or the many ways in which we can prevent it.
Yes, the #1 killer of women can be prevented and yet, so many people are not educated or aware.
So the American Heart Association began a campaign to raise awareness and money for research specifically geared toward women's heart health.
It's called the Woman of Impact campaign and all over the United States women have been nominated as part of this effort.
This year, I have been honored to be one of the local Woman of Impact nominees.
As a nominee, it is my job to head up a team to help me share information that can better educate women on heart health so that we can reduce the number of women being killed each year from heart disease, stroke or heart attack.
We are also teaming up to raise money for research.
Accepting this nomination is a big deal, because it is going to require a lot of effort to make the campaign successful.
Why Did I Say Yes to the American Heart Association?
Well, if I am going to be honest I would have to tell you that I originally had planned to say "no".
It just seemed to big of a project for a person who works a solo job from home.
But the more I thought about how heart disease has affected my life and the people I love, I knew I had to step up to the challenge and do my part to make a difference.
As an inspirational speaker, author and coach, it has become my life mission to help inspire people to live a life of purpose, passion and joy, so they can make an impact.
And if I am to live up to the title of my book "How Can I Help?", then how could I not step up to the plate by saying yes?
By participating in this campaign, I am able to hopefully make an impact that can "literally" help save lives.
So here are three of the many reasons, I said yes to this challenge.
These people are my WHY's for participating this year.
My Grandmother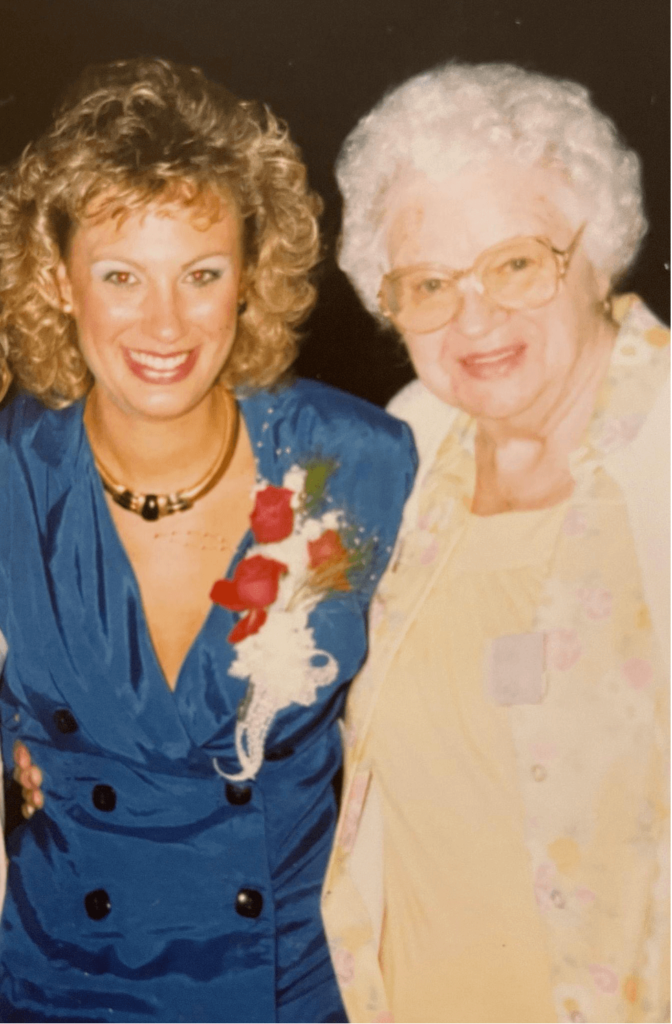 When I was a young adult my very active grandmother had a stroke that paralyzed her body and robbed her of her short term memory. After that stroke she was never able to live independently again.
My Father
A few years ago, my dad was feeling out of breath when exerting himself, and went in for an exam. A simple heart cath was ordered and within minutes, he was brought out of anesthesia to sign papers for emergency heart surgery. He had a quadruple bypass in which the surgeon said one his arteries practically disintegrated in his hands.
His life was saved from this surgery.
My Husband
My husband was out of town on business and called me telling me he wasn't feeling well.
He was feeling light headed and a bit nauseated.
He went downstairs to get breakfast at his hotel and said it made him feel a bit better.
We discussed going to the local hospital, but he said he thought he was well enough to drive home, but not feeling well enough to work.
He thought he had the flu.
By the time he got home, he started feeling so bad he drove right to his doctor's office.
Thank God he did.
It wasn't the flu.
He was having a heart attack.
He had a heart cath and had stents put in to open up the blockages.
He was 50 years old.
Yes, three of the people I love most in this world have dealt with the ramifications of heart disease. It runs in both sides of my family and now our son is at high risk too.
Heart Disease Impacts Everyone
When a person suffers from heart disease, a heart attack or a stroke, it doesn't just affect the patient. It affects those who love and care for them as well. It can cause stress and perhaps a lack of self care that can also affect your heart health. So heart disease has a ripple affect that can be passed down to the people you love most.
My grandmother's stroke didn't just affect her life, it affected the lives of all of her children. Causing added stress as they tried to care for her.
My dads bypass surgery and my husbands heart attack, while both scary, were also wake up calls that lifestyle changes needed to be made in order to stay healthy.
For me, as the primary cook, in the house, it meant I needed to learn more about a heart healthy diet and had to learn a whole new way of selecting foods and preparing them. And it meant that both of us needed to exercise more.
So as you can see, even though I have a healthy heart, I have been living with the effects of heart disease for decades. And I am guessing you have too.
That's why I said yes, to the Woman of Impact nomination for 2023.
Sherrie Dunlevy – Woman of Impact 2023
From February 3rd to April 6th, I am on a mission to inform and educate as many people as I can about heart disease in women and in all those we love. I hope this will inspire you to take action when it comes to taking care of your health and to want to help me raise money for the American Heart Association.
This is a big mission and I have surrounded myself with an incredible team of local women who have also said yes and agreed to help me during this campaign.
And you can say yes too?
Will you join me in this Woman of Impact campaign?
If you would like to lock arms join me in as a member of my team, you can click this link to join:
http://www2.heart.org/goto/SherrieDunlevy
If you would like to make a donation to my campaign click here: http://www2.heart.org/goto/SherrieDunlevyDonation
And if your business, or organization would consider being a sponsor for any of our upcoming events, you can email me at sherrie@sherriedunlevy.com
If you would like more information on my upcoming virtual Total Self Care Workshop make sure to sign up here: Subscribe to Newsletter